Use the CopyDock SATA to connect up to two SATA hard drives or SATA SSDs to your computer through SuperSpeed USB3.0, delivering transfer rates up to 5Gbps. As a docking station, the CopyDock SATA is perfect for high-speed backups and data recovery.
The CopyDock SATA also features sector by sector, 1-1 disk duplication. Simply insert your Master disk and Target disk into the bays and create an exact duplicate with the press of the button. No external host system is required. The Target disk receives a complete image including boot sector, operating system and application data.
The Kanguru USB3.0 CopyDock SATA also comes with one touch backup software for Windows for conveniently backing up your important files.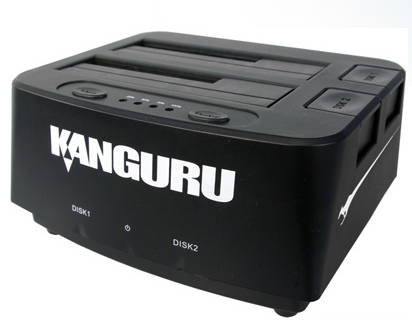 Simple and Easy to Use
2x 2.5"/3.5" SATAII 3Gbps bays
Clone SATA SSDs natively
USB 3.0 interface – up to 5Gbps
Connects to a computer for use as an external storage device
1 to 1 stand-alone duplication
LED status indicators
SSD Support
Size and brand independent
INTERNAL CONNECTION INTERFACE
2.5" SATA HDD
3.5" SATA HDD
2.5" SATA SSD
Clone button
One Touch Backup Button
• Windows XP*
• Windows Vista
• Windows 7
• Windows 8
• 32 and 64 bit compatible
• Mac OSX and above
• Kanguru USB CopyPro Software on DVD
• 10 Port USB 3.0 Hub with power adapter and USB 3.0 Cable
1-year warranty from date of purchase.
Please register your product to help us better serve you with more prompt technical support and warranty services for your product.
*Please Note: In line with Microsoft's End-of-Support announcement for Windows XP™, Kanguru Solutions is ending support for its line of products running on the Windows XP platform. While our products have been quality tested internally on Windows XP, we cannot guarantee normal product operation on an unsupported OS. Please consult your system administrator for an OS upgrade.