These high-quality USB Duplicators are designed to streamline data duplication and backup activities for USB storage devices. As stand-alone units, they do not require a computer to use. The user friendly LCD interface and intuitive menu enables you to copy data to multiple USB devices quickly and easily. Simply plug your USB devices into the duplicator's USB ports and choose your duplication method. It's that easy!
The Kanguru USB Duplicator is perfect for sales and marketing preparation, IT work, backups, PC rollouts and more. It has multiple functions which allow you to copy, compare, verify and erase data to your USB devices. It also provides numerous setup and advanced setup options for the experienced user.
Copy Functions Include:
Full Mode - Complete sector-by-sector duplication. Supports all file systems.
Brief Mode - Only copies sectors that contain data. Supports FAT, FAT32, exFAT, NTFS, HFS+,
HFSX, and EXT2/3/4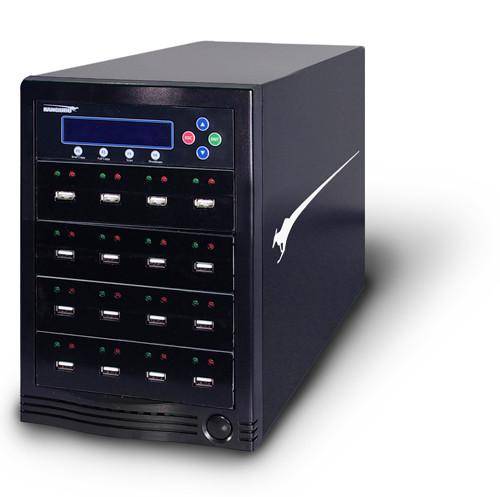 High-Speed USB2.0, Up To 33MB/s Per USB Port
Complete Stand-Alone Operation, No Computer Required
Synchronous and Asynchronous Duplication
Size and Brand Independent
Supports All Data Formats With Sector-by-Sector Duplication
Secure Erase Feature Wipes Drives and Prevents Data from Being Recovered
4 Shortcut Keys for Easy Operation
USB Pre-Scan Checks Your Source USB Device for Physical Read Errors
1 year limited warranty
Varying Brands and Capacities; USB A-Type Connection
Up to 33 MB/sec to each port*
4 Navigation Buttons, 4 Shortcut Buttons
UL 1950, FCC Part 15 Class A
• Kanguru USB Duplicator
• AC Power Cord
• Manual and User Registration
This product carries a 1 Year limited warranty.


Please register your product to help us better serve you with more prompt technical support and warranty services for your product.
* actual transfer rate dependent upon device