The Kanguru DVD Duplicator is a high-speed, stand-alone duplication system with a feature rich LCD. The 24x burn speeds make it one of the fastest DVD duplicators on the market today - insert a master DVD or CD and a blank disk to make copies at the touch of a button, it's that easy! A user-friendly LCD interface allows for Copy, Compare, Copy and Compare, Test, Test and Copy, Mix Audio Tracks, Erase and Auto Copy functions. The Kanguru DVD Duplicator's built-in hard drive allows you to save images of your common duplication jobs internally for convenience.
The Kanguru DVD Duplicator is also compatible with CD+G, VCD, ISRC and more, allowing you to have every major format at your disposal! You can also create custom audio CDs mixes from different audio CD's, making custom CDs faster and easier!
As an added benefit, the Kanguru DVD Duplicator comes with CopyLock, a powerful anti-ripping, anti-burning software that protects your DVD videos from unauthorised duplication.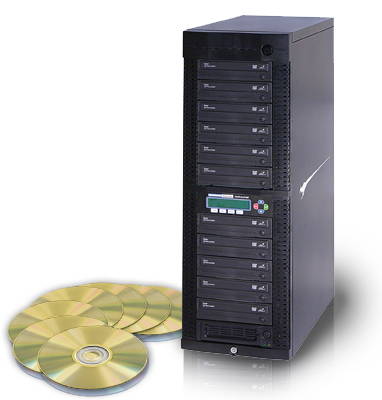 Ultra fast 24x DVDRW burners
Stand-alone operation, no computer needed
USB Connectivity
500GB internal hard drive
Hotkeys and easy to use LCD display
Copy, Compare, Copy and Compare, Test, Test and Copy, Mix Audio Tracks, Erase and Auto Copy functions
Job counters for production runs
Multi-lingual support
CopyLock copy protection software included with 5 trial licenses
Supports ADS recording devices
• DVD-R: 24x
• DVD+R: 24x
• DVD-ROM: 16x
• DVD-R DL: 12x
• DVD+R DL: 12x
• CD +/-R: 48x
• CD-ROM: 48x
• Copy
• Copy/Compare
• Compare
• Test
• Verify
• Erase
• DVD+/-R
• DVD+/-RW
• CD-R
• CD-RW
• Windows 10
• Windows 8
• Windows 7
• Windows Vista
• Windows XP*
• Mac OSX 10.5 – 10.8
Universal 115-230V AC, 50-60Hz
• DVD Duplicator
• USB Cable
• Power Cable
• Kanguru Media Manager Software (Windows)
• CopyLock software with 5 trial licenses (Windows)
• CopyConnect Software (Mac)
1-year warranty from date of purchase. Extended warranty plans are available for this Duplicator!


Please register your product to help us better serve you with more prompt technical support and warranty services for your product.
* Please Note: In line with Microsoft's End-of-Support announcement for Windows Vista™, Kanguru Solutions is ending support for its line of products running on the Windows Vista platform. While our products have been quality tested internally on Windows Vista, we cannot guarantee normal product operation on an unsupported OS. Please consult your system administrator for an OS upgrade.