KanguruClone™ 5HD-SATA Hard Drive Duplicator Tower
Stand-Alone Kanguru Hard Drive Duplicator Tower (5 Target)
The new, high performance KanguruClone 5HD Tower Hard Drive Duplicator is a high speed, stand-alone SATA hard drive duplicator that can copy up to 5 hard drives or SSDs simultaneously. With ultra-fast copy speeds of up to 6GB/min, the KanguruClone is one of the fastest cloning systems available.
A feature rich LCD makes the duplication process a breeze! Just insert your master hard drive and up to 5 target hard drives, and you will be duplicating within minutes. The duplicator has many advanced features for the IT professional, yet the controls are simple enough that even a novice can begin cloning hard drives within minutes of taking it out of the box.
With multiple copy modes including Brief, Disk, Resize and secure disk wiping capabilities, the KanguruClone 5HD Tower Duplicator is great for IT work, backing up hard drives, data wiping, large PC deployments, drive testing and more! You can even copy a current small capacity drive to a larger capacity drive with all original content intact!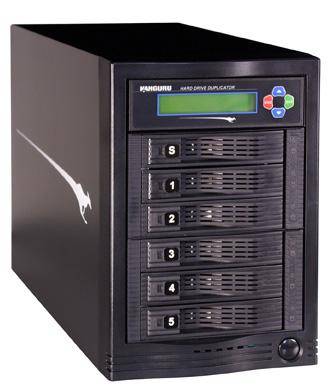 Multiple Copy Modes: Brief, Disk, Resize
Fast transfer rates – up to 6GB/min
Supports all major file systems
Supports 3.5" SATA HDDs natively
Supports 2.5" SATA HDDs up to 9.5mm thickness with adapters
Supports SATA SSDs with adapters
Secure Disk Wipe feature meets DOD 5220-22M guidelines
Tool-free rack design
Multiple UDMA modes supported
System counter
Size and brand independent
Standalone operation, no computer needed
TAA Compliant
Native 3.5" SATA
2.5" SATA (9.5mm thickness)
2.5" require adapters
MAX DRIVE CAPACITY SUPPORTED
• KanguruClone 5HD-Tower
• User Manual
• A/C power cable
• 2x 2.5" to 3.5" SATA adapter cartridges
This product carries a 1 Year limited warranty.


Please register your product to help us better serve you with more prompt technical support and warranty services for your product.