KanguruClone™ 7HD SATA Pro Hard Drive Duplicator
Stand-Alone Kanguru SATA Hard Drive & SSD Duplicator
The new, high performance KanguruClone 7HD SATA Pro Drive Duplicator is a high speed, stand-alone SATA drive duplicator that can duplicate up to 7 hard drive or solid state drive copies simultaneously. With ultra-fast copy speeds of up to 12GB/min, the KanguruClone is one of the fastest data duplication systems available.
A feature rich LCD makes the duplication process a breeze. Just attach your master drive and up to 7 SATA hard drives or solid state drive targets, and you will be duplicating within seconds. The KanguruClone 7HD SATA Pro Drive Duplicator has many advanced features for the IT professional, yet the controls are simple enough that even a novice can begin cloning drives within minutes.
With multiple copy and compare modes (Brief, Disk, Resize and Ratio), secure disk wiping capabilities and robust logging capabilities, the KanguruClone 7-Target SATA HDD/SSD Duplicator is great for IT work, backing up and cloning hard drives and solid state drives, data wiping, large PC deployments, drive testing and more! A new feature of the KanguruClone Pro Duplicator series is the ability to resize copy a larger capacity hard drive to a smaller one, or even migrate HDDs to SSDs!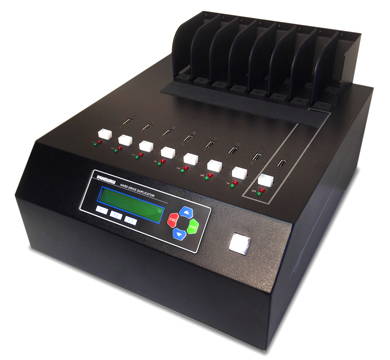 Multiple Copy Modes: Smart, Brief, Disk, Resize and Ratio
Fast transfer rates – up to 12GB/min
Create up to 7 copies simultaneously
Supports 2.5" and 3.5" SATA based hard disk drives and solid state drives
Supports all major file systems
Secure Wipe feature (Erases up to 999x)
PC based logging software (optional)
Advanced tools and features:
HPA (Host Protection Area) Check
DCO (Device Configuration Overlay) Check
Skip Read Error
Multiple UDMA mode support
Store multiple hard drive images on a Storage Center for convenient access to common jobs
Standalone system - no PC required
TAA Compliant
SATAIII (maintains compatibility with SATAII & SATAI)
Native 2.5" & 3.5" SATA HDD & SSD
EXTERNAL CONNECTION (FOR LOGGING)
MAX DRIVE CAPACITY SUPPORTED
• 1 KanguruClone 7HD-SATA
• 8 SATA data/power cables
• 1 RS-232 to USB converter cable
• 1 Logging software CD (Windows only)
• 1 Quick Start Guide
• 1 A/C power cable
This product carries a 1 Year limited warranty. 1 Year (Parts), 90 Days (Labor)


Please register your product to help us better serve you with more prompt technical support and warranty services for your product.