The Kanguru 24x DVDRW drive provides high speed DVD and CD burning for PC and Mac users. Dual Layer technology allows you to burn nearly twice as much data (up to 8.5GB) to a single disc, allowing you to create high quality DVDs.
The high-speed DVDRW is a great way to add the ability to burn DVDs and CDs to your computer. The Kanguru DVDRW utilizes USB2.0 connectivity, providing plug and play ability and fast burn speeds. Discs are created using "BURN Proof" technology to ensure fast, accurate burns.
Simply plug the drive into an available USB port for instant access to a 24x DVD/RW drive.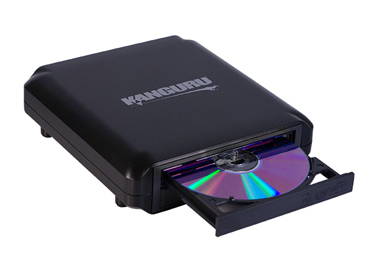 Burn DVDs up to 24x and CDs up to 48X
Burn up to 8.5GB with Dual Layer DVDs
Dual Format DVD Burning (DVD-RW and DVD+RW)
High Speed USB 2.0
Plug and Play
Driverless on most operating systems
Buffer under run protection
TAA Compliant
24x DVD+/-RW (Dual Layer)
Dual Format (DVD+RW & DVD-RW)
• DVD+R: 24x
• DVD-R: 24x
• DVD-RW: 6x
• DVD+RW: 8x
• DVD-R DL: 8x
• DVD+R DL: 8x
• CD-R: 48x
• CD-RW: 24x
• DVD-ROM: 16x
• DVD-ROM DL: 12x
• CD-ROM: 48x
DAO (disk at once), SAO (session at once), TAO (track at once), with zero gap, variable or fixed packet, multisession
• Windows 10
• Windows 8 / 8.1
• Windows 7
• Windows Vista
• Windows Server 2008
• MacOS X and above
• Kanguru USB2.0 24x DVD+/- Drive
• USB2.0 cable
• Power Adapter
• Quick Start Guide and registration info
This product carries a 1 Year limited warranty.


Please register your product to help us better serve you with more prompt technical support and warranty services for your product.