Kanguru CopyPro with 10-Port USB Hub
Kanguru CopyPro with 10-Port USB Hub
Kanguru CopyPro™ with 10-Port USB Hub
Kanguru CopyPro Software Package with 10-Port USB 3.0 Hub
The Kanguru USB Copy Pro USB 3.0 is a multi-port USB Data Copier designed to be a cost effective way of mass producing data on USB devices (flash drives, hard drives, etc.) It consists of Kanguru USB Copy Pro copying software and a 10-Port USB Hub for copying data to multiple USB devices.
A simple, 3 step process allows you to copy data for up to 10 USB devices. Just select your USB connected drives, choose the data you want to copy and then start the copy job. The Copy Pro will copy your data to two drives simultaneously and continuously until the data has been copied to all 10 drives.
The Kanguru USB Copy Pro is an easy to use, cost effective way of distributing data via USB devices.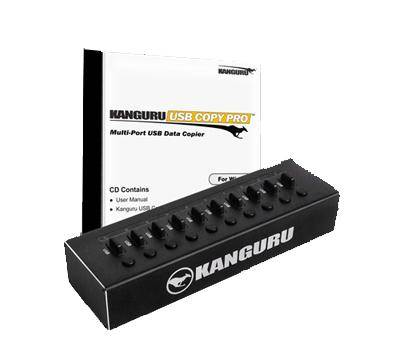 Copy data to multiple USB drives in a single process
Copies data at USB 3.0 speeds
Includes 10-Port USB Hub
Can copy any type of removable USB storage device (flash drives or hard drives)
Size and brand independent
Easy to use Kanguru USB CopyPro software
Plug-and-play hub
Format flash drives in FAT, FAT32 or NTFS
Capacity checking
Error reporting
USB 3.0 (Maintains Compatibility with USB 2.0)
• Windows 10†
• Windows 8
• Windows 7
• Windows Vista
• An available USB 3.0 port
(USB 3.0 port is required to achieve USB 3.0 speeds)
• Admin Rights
• 96 dpi display
• Kanguru USB CopyPro Software on DVD
• 10 Port USB 3.0 Hub with power adapter and USB 3.0 Cable
1-year warranty from date of purchase.
Please register your product to help us better serve you with more prompt technical support and warranty services for your product.
† Known compatibility issue with Dell computers