This high speed USB2.0 Hard Drive is a great way to add storage to your PC, Notebook or Mac. Add huge capacities and lightning fast access to all your data! The USB2.0 speed makes it great for video editing, mobile users, data back up, or simply increasing your computers storage space!
The Kanguru Eco Drive has built in technology to help you save energy and increase the life of your hard drive. The product comes preconfigured to put your hard disk into low power modes for energy savings that can be monitored and configured directly in the provided Power Saving software! Also because your Kanguru Eco Drive is not spinning all the time, the life of the hard drive is greatly lengthened!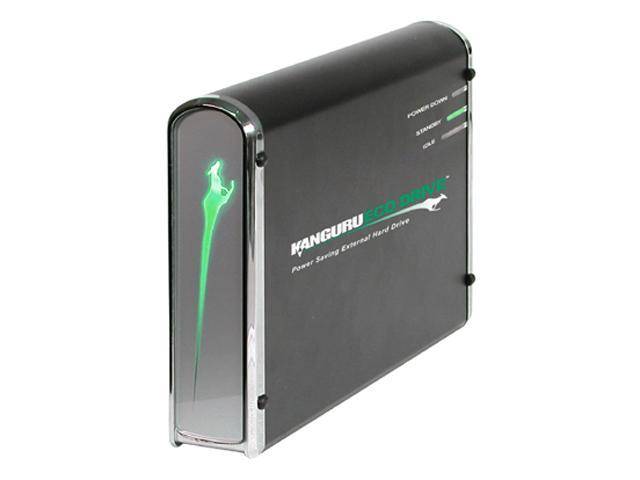 3 Power Saving Modes – Power Down, Standby, Idle
Uses up to 75% less power than average external hard drive
Include Power Monitoring Software (PC only)
RoHS Compliant – Lead, Mercury free
Vibrant Green Kanguru LED
Custom Carry Case
• MacOS X or later
• Windows 2000
• Windows 7
• Windows Vista
• Windows XP
• Kanguru Eco Drive HDD
• USB device cable
• 1x Carrying Case
• 1x Driver CD
1-year warranty from date of purchase.
Please register your product to help us better serve you with more prompt technical support and warranty services for your product.