The Kanguru QS Slim DVDRW is an ultra-compact, portable optical drive that can be powered by USB. This TAA Compliant DVD Burner can burn DVDs or CDs in a snap!
Barely bigger than a DVD itself, this remarkable little DVDRW is big on convenience! The Kanguru QS Slim DVDRW weighs under a pound and features a built-in USB cable that can be stored within the housing, allowing for quick and easy portability. There are no extra cables to carry around!
In addition, if you have concerns about "badUSB", the firmware for the Kanguru QS Slim DVDRW DVD Burner is protected, and cannot be modified or tampered by a third-party. If an intrusion of malware from third-party hacking is a concern within your organisation, the Kanguru QS Slim drive is a protected firmware drive so it can be trusted on your computer or network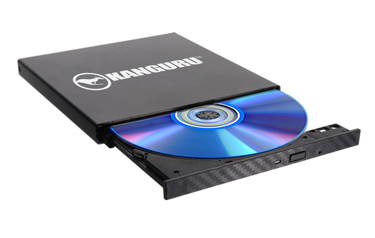 Compact, portable design
USB powered, no external power supply needed
Built-in USB2.0 Cable
Burns DVDs up to 8x and CDs up to 24x speeds
Burn up to 8.5GB with Dual Layer DVDs
High Speed USB 2.0
Protected Firmware - Safe from "badUSB"
Plug and Play
Driverless on most operating systems
Buffer under run protection
TAA Compliant
• DVD+R: 8x
• DVD-R: 8x
• DVD-RW: 6x
• DVD+RW: 8x
• DVD-R DL: 6x
• DVD+R DL: 8x
• CD-R: 24x
• CD-RW: 24x
• DVD-ROM: 8x
• DVD-ROM DL: 8x
• CD-ROM: 24x
BUFFER UNDER RUN PROTECTION
• Windows 10
• Windows 8
• Windows 7
• Windows Vista
• Windows 2008
• Windows 2003
• MacOS X 10.x and above
Protected Firmware - Safe from "badUSB"
• Kanguru QS Slim DVDRW
• USB to power cable
• Quick Start Guide
This product carries a 1 Year limited warranty.


Please register your product to help us better serve you with more prompt technical support and warranty services for your product.
* actual transfer rate dependent upon device