The KanguruClone 4 M.2 NVMe SSD Duplicator is a high speed, stand-alone duplicator that can clone up to 4 ultra high-performance M.2 NVMe SSDs at once. With copy speeds of up to 12GB/min, the KanguruClone 4 M.2 NVMe SSD Duplicator is a fast and cost-effective duplication system, perfect for organisations looking to upgrade their PCs with the new NVMe technology.
A full-color, 4.3" TFT touchscreen user interface makes this the easiest-to-use Kanguru duplicator ever! Just attach your master NVMe drive and up to 4 NVMe solid state drives and you will be duplicating with just a few taps of the screen. The KanguruClone 4 M.2 NVMe SSD Duplicator has advanced features for the IT professional, yet the controls are simple enough that even a novice can begin using it within minutes of taking it out of the box.
With multiple copy and compare modes (Brief, Full, Resize and Image), secure disk wiping capabilities and robust logging capabilities, the KanguruClone 4 M.2 NVMe Duplicator is great for IT work, backing up NVMe solid state drives, data wiping, system rollouts, drive testing and more!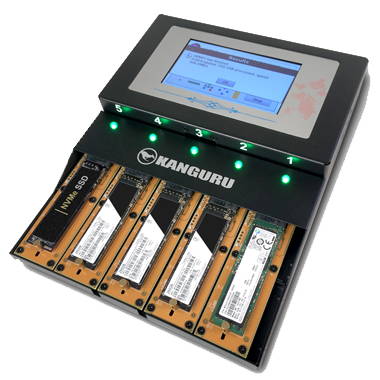 Supports All Standard M.2 NVMe SSDs
(Capacity and brand independent.)
Full-Color 4.3" TFT Touch Screen
Up to 12GB/min Transfer Rates
One-Year Standard Warranty: (This system comes complete with a one-year parts and 90 day labor warranty.)
Clones Any Operating System: Including Windows, Linux, Mac and Many More.
Five Copy Operations: Full, Brief, Resize, Ratio and Image Copy
Powerful Erase and Disk Wipe Features (compliant with DoD 5220.22-M)
Detailed and Downloadable System Logs
Supports HPA (Host Protection Area) and DCO (Device Configuration Overlay)
Standalone System - No PC Required
RJ45 – For network connectivity (optional) USB2.0 – For saving log files and updating firmware
Full-color 4.3" TFT Touch Screen
AC Input: 100-240V ~2A
DC Output: +12V/ 5A, 60W
• KanguruClone 4 M.2 NVMe SSD Duplicator
• Quick Start Guide
• External Power Adapter and Power Cable
This product carries a 1 Year limited warranty.


Please register your product to help us better serve you with more prompt technical support and warranty services for your product.